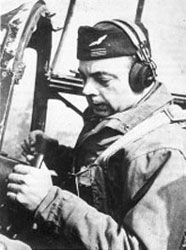 Antoine Marie Jean-Baptiste Roger, compte de Saint-Exupéry was a French pilot, poet and author. Born in Lyon, France on June 29, 1900, Saint-Exupéry dreampt of becoming a naval officer, but was refused admission to the French Naval Academy. Instead, he was called up by the French Air Force in 1921 (though not as a pilot). It was there he found his passion to fly airplanes.
After his stint in the Air Force, Saint-Exupéry became a licensed civil pilot in 1927. Shortly thereafter, he landed the job of flying the mail on a difficult and dangerous route from Toulouse, France to Dakar, Morocco.
While stationed in Dakar, Saint-Exupéry began writing to relieve the boredom between assignments. Courier Sud (Southern Mail) 1929, became his first published work and was largely autobiographical.
When the company folded in the early 1930's, Saint-Exupéry bounced around in several flying and non-flying jobs and continued to write about flying and adventure until France entered World War II in 1939. He was immediately called into active service and remained in the military until France surrendered in 1940.
He then left France for America and continued to write. His most famous work, Le Petit Prince (The Little Prince) 1943, was written during his stay in the United States. When the U.S. entered the war in 1941, Saint-Exupéry joined the American Air Force stationed in North Africa in 1943. He was killed in action July 31st, 1944.
bibliography
Courier Sud (Southern Mail) 1929
Vol de Nuit (Night Flight) 1931
Terre de Hommes (Wind, Sand, and Stars) 1939
Pilote de Geurre (Flight to Arras) 1942
Lettre à un Otage (Letter to a Hostage) 1943
Le Petit Prince (The Little Prince) 1943
Citadelle (The Wisdom of the Sands) posthumous
for more information